Hiring a Contractor
What you should know before you hire a contractor
Protect yourself-and your pocketbook-by doing your home improvement homework and planning responsibly for your project. Homeowners want a quick and easy, high quality project at a cheap price. You cannot have all three. In the long run, you get what you pay for.
Most licensed contractors are competent, honest, hardworking and financially responsible. However, home improvement is a top source of consumer complaints nationwide. Most home construction contract problems can be prevented if homeowners know their home improvement rights and take responsibility for their project. A responsible and informed consumer can work more effectively with reputable contractors, and can avoid being victimized by unscrupulous or unlicensed operators.
The California Contractor's State License Board has a document, "What You Should Know before you hire a contractor", on their web site at http://cslb.ca.gov/Consumers/Hire_A_Contractor/. This document is a "must read" for homeowners seeking a contractor.
Make sure your contractor is licensed
Hire only licensed contractors. Check their license on the internet through the CSLB at http://www.cslb.ca.gov/.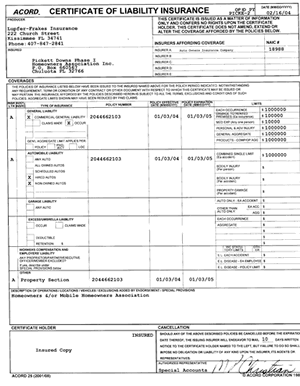 Make sure your contractor is properly insured
For light residential work, your contractor should have general liability insurance not less than $1,000,000 Combined Single Limit. Larger custom homes may require higher limits. The contractor should name you as an "Additional Insured" on these policies. He should furnish you proof of insurance confirming the existence and amount of coverage for liability and worker's compensation. The proof of insurance should come from the carrier, should be on an Acord certificate of liability insurance, should have your name on it as an additional insured, and should have a statement on it indicating the insurance will remain in force for the duration of your project.
Ensure the contractor has Worker's Compensation Insurance and that the carrier also mails you a certificate certifying the same.
Insurance is not cheap. Liability insurance is about 2% of a contractor's gross. Worker's compensation costs between 15% through 40% of a contractor's payroll, depending on the trades used and the contractor's experience factor. Our employee health insurance runs about 10% of payroll. These costs are an essential part of doing business as a professional firm with a stable, sustainable, productive construction team. If your contractor balks at proof of insurance, look for problems. Be very afraid of a contractor who pays his employees in cash.
Have a written contract
Get a written contract and do not sign anything until you understand the terms.
Ensure all change orders are in writing.
The contract should include a schedule of values and a listing of unit costs for extra work.
Additional good practices
Get three references, and review past work.
Get more than one bid. However, please remember how much work a bid takes. Be fair to the General Contractor and do not shop or peddle his number. If you are not fair with the contractor during the bidding process, you may not get a contractor who is fair to you during construction. If you shop numbers, you can always get a lower number. You generally also get what you pay for. Keep in mind that you want this contractor to be in business after your project is complete so he can honor any warranties or be available for consultation and assistance regarding your project.
Pay 10% down or $1,000, whichever is less.
Don't let payments get ahead of work. Your contractor should give you a schedule of values you both agree on at the start of the project and payments should be made by that schedule. Keep records of payments.
Keep a job file of all papers relating to your project.
Don't pay cash.
Don't make final payment until you're satisfied with the job.